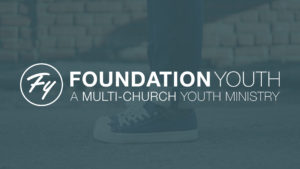 Foundation Youth Ministry is on hold for the summer. Contact the church for our youth summer Bible study, and we look forward to Foundation's return in the Fall!
Foundation Student Ministry is a multi-church movement that exists to introduce Middle and High School students to the Gospel and to teach them how to live out their faith in their schools, relationships, and decision making. This is how we help students to build a strong faith – by fixing their life to the only firm and unchanging foundation worth building on. Every week students will engage with God's word, examine relevant issues through the lens of Scripture, and gather in fellowship with God's people. This is why small groups is the most important thing we do – because the Christian faith is not meant to be individualistic, but we instead run the race together.
Time:
Weekly Wednesday 6:30 – 8:00 PM
Location:
Grace Church – 30623 Plank Rd.
Leader/Contact:
Pastor Charles – (262) 758-7347